T
he pulse diagnosis is an ancient Ayurvedic procedure that helps doctors determine the physical and mental state of the person and to understand the situation of balance or imbalance of the doshas. Through the wrist, in fact, you can easily feel the rhythm of Vata, Pitta and Kapha and determine a person's physical and mental state.
The method is to place three fingers gently on the patient's radial artery which is found on the wrist. Through pulse diagnosis, it is possible to identify which of the three dosha is responsible for any discomfort or illness and overcome them by prescribing the Maharishi Ayurveda treatments.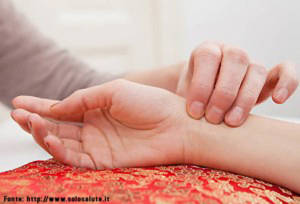 E
ach dosha has its own peculiarities. The Vata pulse, for example, is rapid and irregular, while Pitta is perceptible and adjust. The wrist Kapha has a large, slow pace. The pulse diagnosis will allow the physician to detect all three doshas, to perceive the quality of the pulse and to define precisely the imbalances of doshas. The pulse diagnosis is a particular method that is acquired with experience.
The technique of pulse diagnosis is recognized by the World Health Organization as a tool for early detection of an imbalance and as a disease prevention method.